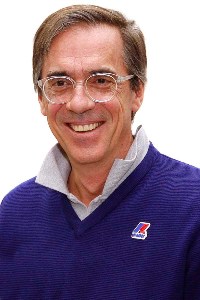 Marco Boglione

President (Click here to watch the biography video)
BasicNet SpA
Marco Boglione, founder and President of the BasicNet group, was born in Turin on the 9th of May 1956. He was the youngest of three brothers in a middle-upper class family. His father Lorenzo was an insurance executive, and his mother Anna was an established businesswoman managing a successful interior design showroom.
Marco Boglione's talent for business was obvious from an early age. In 1974 He graduated at Istituto Filippin in Paderno del Grappa, where he had established a photography school - his first passion - and set up a small souvenir photo business with some of the school's students. Thanks to this enterprise he earned his first million and a half liras when he was just 16 yrs old.
He returned to Turin and, to please his father, he enrolled at Turin's Polytechnic, but soon left to join a small advertising agency as a copywriter. Six months later he joined Maurizio Vitale at Maglificio Calzificio Torinese, the owner of the Robe di Kappa® and Jesus® Jeans brands.
After working night shifts in the weaving department, Boglione started to climb the ladder: in 1978 he convinced Maurizio Vitale to open the company's sportswear division with the Kappa® brand; in 1981 - when he was just 25 years old - he was made director of sales and marketing.

At the end of the '70s he discovered a second interest: computers; a passion that would be the core of BasicNet's business model.

In 1983, on the advice of Maurizio Vitale himself, who was seriously ill at the time, Marco Boglione left Maglificio Calzificio Torinese and founded Football Sport Merchandise with Luciano Antonino, the first European company licensed to produce and market leisurewear and accessories with the brand, colors and logos of the most important football teams.

The following year, in 1984, Boglione and his first wife Daniela Ovazza founded Mototaxi, a company which would be sold to the Italian Mail service in 1999.
Football Sport Merchandise developed and grew over a number of years, until, in 1994, Boglione and Maglificio Calzificio Torinese's paths crossed again. Seven years after Maurizio Vitale's untimely death in 1987, the Group declared bankruptcy.

Football Sport Merchandise purchased the company's brands, estate and assets at an auction held on October 28th 1994, for 21 billion liras.

Thus Basicnet was born from the ashes of Maglificio Calzificio Torinese: all the same brands, but a different business model. It was no longer a textiles company, but a network of independent entrepreneurs connected to each other and to the holding by internet. A network of partners licensed to produce or market worldwide the collections designed by the holding, current owner of the Kappa®, Robe di Kappa®, Jesus® Jeans, Superga®, K-Way®, AnziBesson®, Lanzera® and Sabelt® brands.

During his career as an entrepreneur Boglione has also held a number of institutional posts.
He has been a member of the Council for Relations between Italy and the United States since 1995 . Between 2000 and 2006 he was President of the Torino-Piemonte Film Commission and President of the Consultation Committee of the Faculty of Architecture.

From 2003 to 2006 he presided over ITP (Agency for Investment in Turin and Piedmont), and in 2005 he joined the Board of Directors of the Piedmont Foundation for Cancer Research.

On July 2010 became a member of the Board of Directors of the Industrial Union of Torino and in 2011 he became president of the Piedmont Oncology Foundation.
In the same year, on the 2nd of June, he was made Cavaliere del Lavoro by President of the Italian Republic Giorgio Napolitano. On the 25th of June 2014 Marco Boglione becomes part of the Board of Gruppo Piemontese Cavalieri del Lavoro, and will be in office until 2017.
On the 14th of July he was nominated board member of Fondazione Telecom Italia from 2014 to 2016.
Marco Boglione has four children: Lorenzo and Alessandro, with his first wife Daniela Ovazza; Maria and Rocco with his second wife, Stella Lin Hung.

Currently over 400 entrepreneurs worldwide are part of the BasicNet group, present on 120 markets. Each year, total worldwide sales exceed a billion dollars, with over 60 million items sold. BasicNet is listed on the Italian Stock Exchange.